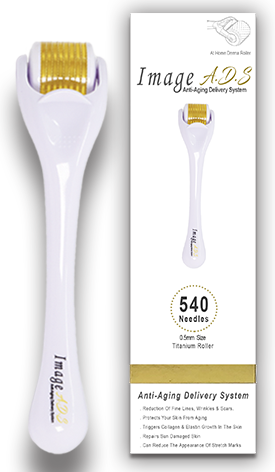 Image A.D.S 0.5mm Dermaroller
The Image A.D.S Dermaroller Is Designed To Reduces Fine Lines & Wrinkles, Eliminate Acne Scars & Marks, Improve Poor Skin Tones, Treat Hyper-Pigmentation, Plump Your Skin, Lips, Boosts Collagen & Makes Your Skincare Products More Effective.  This is a handheld needling roller device which is rolled on  the surface of  skin. This creates tiny punctures on the skin which triggers skin repair. This leads to the body making new collagen. By doing this, proteins called  amino-acids, build up in the collagen. This is the part of the connective tissue that helps in tightening , firmness, suppleness, and elasticity in skin.
To find out more about how you can have glowing skin whilst reducing signs of aging, visit Image A.D.S and find out more.